Space Adventurers is an award-winning Indoor Play centre in Taunton opened in July 2020 and is the latest addition to the Adventurers family!!
Run by a multi-award winning company dedicated to providing an interactive and immersive environment for children up to the age of 12 to set their imaginations free.
With three individually dedicated areas based upon age, from 0-2, 2-4 and 5-12 years old, our centre provides amazing features all with an exciting and out-of-this-world theme. Including sensory zones, astro slides, combat walls, innovative freedom gaming Strike-Arena around our junior structure as well as one of the most popular features of the centre and one that all the children love is the Space themed Role Play Arena!
A visit to Space Adventurers will allow children to explore and expand their dreams in an environment designed for escapism and fun.
Fighting the typical stereotypes of soft play centres, Space Adventurers has been designed with the aim of reversing the generalised traditional connotations and thoughts surrounding soft-play areas.
This is an amazing facility that provides a fresh and hygienic approach by incorporating their industry-leading cleaning fogging system and procedures that makes this one of the cleanliest places possible. It is also one of the only UK Indoor Play Centres to be a Visit England Quality Assured Visitor Attraction!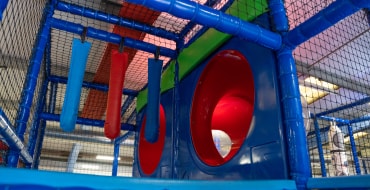 Visit Us
Space Adventurers
34 Frobisher Way,
Taunton,
Somerset, TA2 6BB
Opening Times
Monday-Friday 9.30 – 2.30pm
Saturday and Sunday 9.30-11.30, 12-2, 2.30-4.30
School Holidays 9.30-11.30, 12-2, 2.30-4.30
We operate sessions that may differ depending on the day, so please check availability and pre-book online